The names mentioned here are club members who have represented Scotland in either full international matches or championships.
Juniors
John Gillan
Calum Rattray
Andy Craig
David McGregor
Mark McDonald
Billy Duncan
Graham Mathieson
Stewart Reid
Jamie Cain
Robert Reid
Alan Laing
Seniors
John Gillan
Colin McDonald
Tony Kerr
Lee Edwards
Donald McIntosh
Gary McGregor
John Carlin
Calum Rattray
John Leys
Andy Craig
Alec Wasinowicz
James Mann
Fred Cummings
LeRoy Smith
Evgeny Latishev
Tommy Begg
Tommy Begg was born around the turn of the century.  He was 14 years of age at the start of the First World War.  It was obvious
from the start that Tommy was special and was going to achieve great things in the world of boxing. Tommy was barely five foot tall but he ruled the fly and bantam weight divisions for over eight years and was a regularly competitor at the National Championships in Glasgow. Tommy ran Aberdeen ABC from 1920.  When his boxing career was over he had more time to devote to the running of the club. Tommy was a very successful scrap metal dealer in Aberdeen and was widely known throughout the city.  He got involved in promoting professional boxing aswell as wrestling at places such as the Music Hall in partnership with two of his good friends and they called it BWM Promotions, Begg, White and Miller was the company name.
Tommy's heart was always with amateur boxing so he was re-instated back to the amateurs in 1948.  It was during this time that he turned his attention to forming a North East District.  He was told by the SABA that to form a district he would have to recruit nine new clubs into an association.
During the summer of 1948 Tommy hired a bus and took about 30 of his boys to different towns within the North East of Scotland to promote the sport of amateur boxing.  Every weekend tommy and his boys would tour these towns in the hope of creating an interest for the local communities to set up a club in their area.
Tommy formed a new club called the Hayton Club in Aberdeen.  He was still trying to get new clubs committed to the affiliation of the North East District which was a sub district of the Midland District.
In 1951 Tommy was told that he had got nine clubs to affiliate to the SABA thus forming our own district.  Tommy did all the work and knew all the members of the general council of the SABA.
Tommy then turned his attention to his club.  He was really proud of his efforts to form his district of which he was president.  In later years he was District Treasurer, a position he held till his death in 1972.
Jim Watt who had turned professional and was in the running for a British Lightweight title shot was in need of a sparring partner, during this time Aberdeen ABC had the honour of being asked if John Gillan would like to spar with Jim in preparation for his title shot.  Naturally the answer was yes and Jim came to Aberdeen to train and spar at Aberdeen ABC with John Gillan.
Tommy had the satisfaction of seeing John Gillan win the silver medal at the Edinburgh Commonwealth Games in 1970.  Gillan was in Cardiff boxing in the 1972 Olympic trials the day that Tommy died, perhaps tommy had been dreaming of an Olympic medal.
Tommy was not only a great man, he had a great career in boxing which spanned over five decades and brought boxing as we know it to Aberdeen and the North East of Scotland.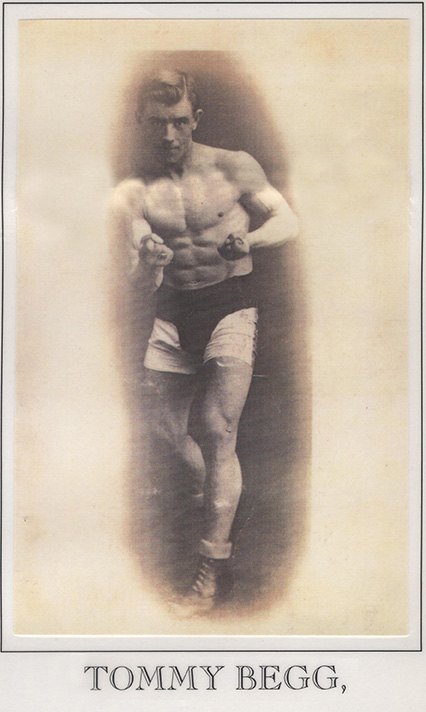 Adam Smith

Adam's involvement in the sport of amateur boxing covers all aspects of the sport where he began competing as a young boxer before going on to become a highly successful club coach and a knowledgeable and respected official, judge and referee within the boxing community of Scotland and the United Kingdom.
As a boxer he trained three nights per week in the gym and he continued this when he took over the running of the club for a period of 40 years opening the gym three nights per week. Add to that Adam organised and ran many shows which took up even more of his time as a volunteer. The club never received funding during its long history and when Adam took over the running of the club in 1972/3 the club had absolutely no funds. The club has always been solely run on the income it generated by the shows it ran many of which were wine and dine shows that were run for local charities and clubs over a period of some 25 years, some of whom include; Ellon Thistle F.C., Dyce Rotary Club, Bucksburn & District Rotary club and Inverurie Squash Club. During his leadership of The Aberdeen Amateur Boxing Club the club produced a multitude of various champions at every level and in every age group within the sport and also international representatives.
Aberdeen ABC during Adam Smith's leadership has had 4 club members turn professional and they are; John Gillan, Calum Rattray, John Carlin and John Leys. Adam is still involved with the running of the gym in an advisory role lending support and advice to the current committee on the running of the gym and its development. Adam Smith is a life member of the now Aberdeen Boxing Club, an honorary president of the club and a life member of The Aberdeen Sportsman's Club.
Adam Smith's involvement with Aberdeen Amateur Boxing Club has continued from 1946 to the present day and spans over 70 years of time, commitment and dedication to his club, its members and the sport of boxing. A timeline of some of the most notable of Adams achievements is detailed below;
As a competitive boxer
1946-1953 – as a competitive boxer winning 66 of 77 contests and claiming junior Midland and North-East district 9 stone titles, a Scottish Youth championships runner-up at 9 stone and a seniorNorth-East district lightweight title
As a club official and coach
1956 – present; Adam Smith became club delegate of Aberdeen Amateur Boxing Club
1957 – 1972; Adam Smith became club office bearer of Aberdeen Amateur Boxing Club as the club president
1957; Adam Smith passed S.A.B.A's officials test becoming a qualified judge
1958; Adam Smith passed S.A.B.A's referee's test, continued refereeing up until 1982
1961; Adam Smith became head coach of Aberdeen Amateur Boxing Club
1964; 2 Scottish Youth Titles and 1 ABA junior runner-up
1970; 2 Scottish Senior titles , 3 boxers in contention for a place at The Commonwealth Games in Edinburgh , 2 boxers picked for the squad, John Gillan going on to win a Silver medal at lightweight in Edinburgh Commonwealth Games
1970 – 1975; 9 Scottish senior titles won by Aberdeen Amateur Boxing Club boxers 6 of which went to John Gillan
1971 & 1973; John Gillan boxes at European championships
1972; John Gillan in Olympic squad for Munich Olympics (had to withdraw through injury)
1972/3; Adam Smith became Secretary of Aberdeen Amateur Boxing Club following the death of Tommy Begg and moved the club to the Muirfield school huts in Mastrick
1974; John Gillan boxes in Auckland Commonwealth Games
1974; John Gillan ABA Championships runner-up
1976; Adam Smith became North-East district committee president serving 24 years as district president from 1976-2000
1976; Aberdeen Amateur Boxing Clubs Jimmy Coutts picked to go to European Youth Championships
1979; Aberdeen Amateur Boxing Clubs Donald McIntosh picked to go to first AIBA World Junior Boxing Championships in Yokohama, Japan
1979 – 1981; Adam Smith served as Scotland team manager on various occasions against Sweden (2), Norway (1) and Ireland (1)
1985; Aberdeen Amateur Boxing Clubs John Leys wins Scottish senior featherweight title, also an ABA semi-finalist
1986; Adam Smith officiates as event security at Edinburgh Commonwealth Games
1988; Aberdeen Amateur Boxing Club had to move from the Muirfield school huts at Mastrick to Cummings Park Community Centre
1989; Andrew Craig boxes in European Championships in Athens
1989 – 1993; Andrew Craig wins 4 Scottish welterweight titles and 4 times an ABA semi-finalist
1995; Adam Smith awarded for 'Service to Sport' from The Scottish Sports Council
2005; Evgeny Latyshev wins Scottish Light-heavyweight title and boxed in the 4 nations championship representing club and country
2015; Presented with long service awards from Boxing Scotland Limited, the Northern District committee of Boxing Scotland Limited and a lifetime achievement award from Sport Aberdeen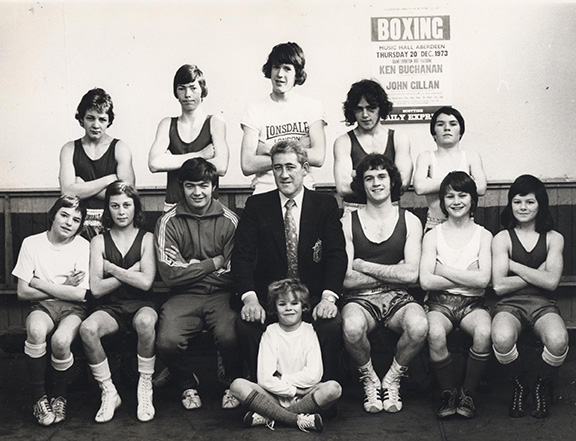 Harry Battensby

Harry Battensby started boxing when he was 17 years of age.  He started boxing with the St Catherine's club in West North Street which is now known the Lemon Tree. He had quite a bit of success with St Catherine's until he joined Aberdeen ABC when he was 19 years of age in 1949. Harry was soon called to his National Service and was stationed at Pinefield Camp in Elgin.  He remained at Pinefield for the duration of his service.  Harry continued with his boxing career during this time and he did well in the area.  At the time there was a lot of boxing going on in the North of Scotland.  There was Fort George just along the road from Elgin, there was also the Fleet Air Arm and the RAF.  All were situated around Elgin and Lossiemouth so there was plenty of choice for competition. During all the competition in the Elgin area Harry achieved the Northern Command Light Welterweight Championship title. Once Harry completed his National Service he continued to train and box for / with Aberdeen ABC.  He also boxed briefly in the boxing booth.  After his boxing career he became a trainer with Aberdeen ABC and harry had over 50 years with us. Harry had a cheery nature and all the boxers both junior and senior liked him very much.  Harry's Co Trainer was Bob Reid, between them they were a formidable team.  Some of their finest moments was John Lees winning the Scottish Featherweight title and Andrew Craig winning four Scottish Welterweight titles. Harry was the Head Trainer with Aberdeen ABC for over 3 decades.  Sadly Harry passed away in March 2011.  He is sorely missed by all who knew him, especially at Aberdeen ABC.
Johnnie Kidd
Johnnie Kidd was a member of Aberdeen ABC from a very young age and as a result of this he was a very good junior boxer.  He was winning most of his bouts and it took a very good opponent to beat him. He was also a very good football player and for a time was torn between both sports but boxing was his first choice. Johnnie won the North East Junior title one night in Keith.  That same night Aberdeen ABC had nine other champions. By the time Johnnie was 16 he was developing into a very good boxer but his father and Tommy Begg fell out and he took Johnnie away to the Hayton Club.  Not long after this he was drafted into the RAF to do his National Service.  It was here that Johnnie really blossomed as a boxer.  He won the Scottish Lightweight title in 1956 and he was picked to box for Scotland in the European Championships in 1957.  Johnnie went on to box with Scotland's very own and legendary Dick McTaggart catching McTaggart with a left hook and the referee had to stop the fight.  This was a tremendous victory for Johnnie Kidd and a rare loss for McTaggart who was not boxing for Scotland at the time but was boxing for England due to him being in the armed forces.  Johnny went on to win a bronze medal in the same competition losing out to Pazdior of Poland in the semi-final who would also beat Dick McTaggart at the Rome Olympics. This victory gave Johnnie a bronze medal in the European Championships.  Johnnie and McTaggart fought many over the years but this was Johnnie's sole victory over him. Johnnie Kidd is the only boxer from Aberdeen to have won the highly coveted ABA Championship title. Johnnie turned professional after his national service was over and he won the Scottish Lightweight Championship as a professional. He went on to beat the British Featherweight Champion Bobby Neil with a cut eye.For a time Johnnie was highly rated amongst the Light Weights in Britain, he had a great career and he settled down in Birmingham where he was stationed with the RAF.
As you can see from his career highlights he boxed with and also beat some of the very best boxers of his time. He was a very accomplished boxer both amateur and professional; he was a very hard hitter too. Johnnie Kidd sadly passed away 2006 and is sorely missed by all.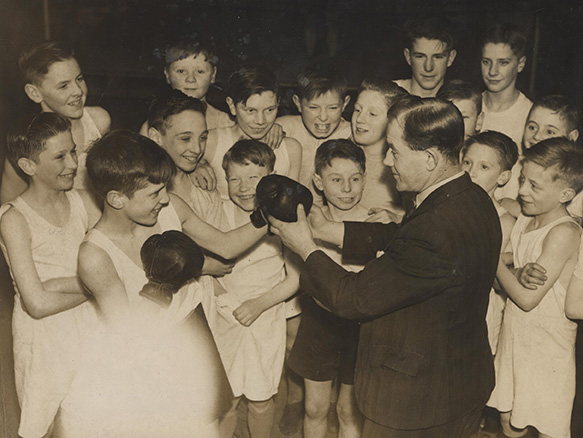 Andrew Craig

Andrew's boxing career began aged 12 and continued until the age of 29 during which time Andrew boxed some of the very best boxers in the UK, Ireland and further afield too with some international opponents coming from Canada and the United States of America.
Andrew won many district titles during his career and his greatest achievement may arguably be winning four Scottish welterweight championships consecutively proving that he was the dominant champion at that weight and time in Scotland. Andrew was also a regular international representative and particularly against the home nations where he boxed some of the best boxers Britain had to offer. In 1989 Andrew represented Scotland at the European Championships in Athens, Greece but on a slightly different note Andrew was very surprisingly overlooked for the 1990 Auckland Commonwealth games despite being the current Scottish champion that year, an act that sadly denied Andrew an opportunity to go for glory in a Commonwealth games.
Andrew Craig had a great and long career winning many honours along the way and figures amongst Aberdeen Amateur Boxing clubs most successful and accomplished boxers. Andrew Craig represents the last of the lineage of boxers who came from the time when the club was based at the Muirfield huts in the Mastrick area of Aberdeen. This was the clubs golden age where the honours and titles were many and there was a wealth of talent and good boxers being produced by the gym among whom Andrew Craig trained and sparred with whilst reaching for the top of his sport. Andrew Craig was a class operator who boxed some of the very best boxers of his time never refusing a contest Andrew Craig was a great servant and ambassador of the club for all the many years and contests he boxed both for the club and in a Scotland vest.
A timeline of Andrew's most notable achievements follows below;
1981 – North-East Junior Champion
1982 – North-East Junior Champion & Scottish Junior Championships Runner-up
1983 North-East Junior & Scottish Champion, received first Scotland international call-up aged just 17 years against England boxing ABA runner Paul 'Mower' Moylette
Lost in Semi-final of Scottish senior Championships versus John Bennie the current Scottish Champion
1986 Represented Scotland versus a New Jersey Golden Gloves select who were touring the UK at the time
Represented Scotland in a tour of Canada boxing against Canadian star Billy Downey
Scotland international bout versus Gordon Joyce younger brother of Kieran Joyce Ireland who was an Olympic representative, on another occasion boxing against Ireland Andrew boxed the highly rated Eddie Fisher
4 Scottish amateur championship titles from 1990 -1993
4 times ABA semi-finalist which on one occasion was on the opposite side of the draw with Joe Calzaghe who went on to win his first ABA welterweight title that year
Represented Scotland in the 1989 European Championships in Athens Greece
1990 'Kincardine and Deeside Sports Personality of the Year' after winning his first Scottish Senior Championship
Overlooked for the 1990 commonwealth games team despite being the current champion that year, which is something that should not have happened and Andrew should have rightly taken his place in Auckland with the rest of the Scottish team
Boxed Martin Carruth brother of Michael Carruth of Ireland in a Scotland international  who won the Olympic gold at Barcelona
Boxed Chris Bessey of England in a Scotland v England international, Bessey would win commonwealth gold and many other international honours in a very successful international career
Twice losing Scottish Championships semi-finalist versus Luis Atuna and Lawrence Murphy at welterweight and light-middleweight respectively
Runner-up versus Alan Wolecki at light-middle in the  Scottish Championships 1995
Over the duration of Andrew's senior career he has won 12 North-East District Championships from featherweight all the way through to middleweight which at that time consisted of 6 different weight classes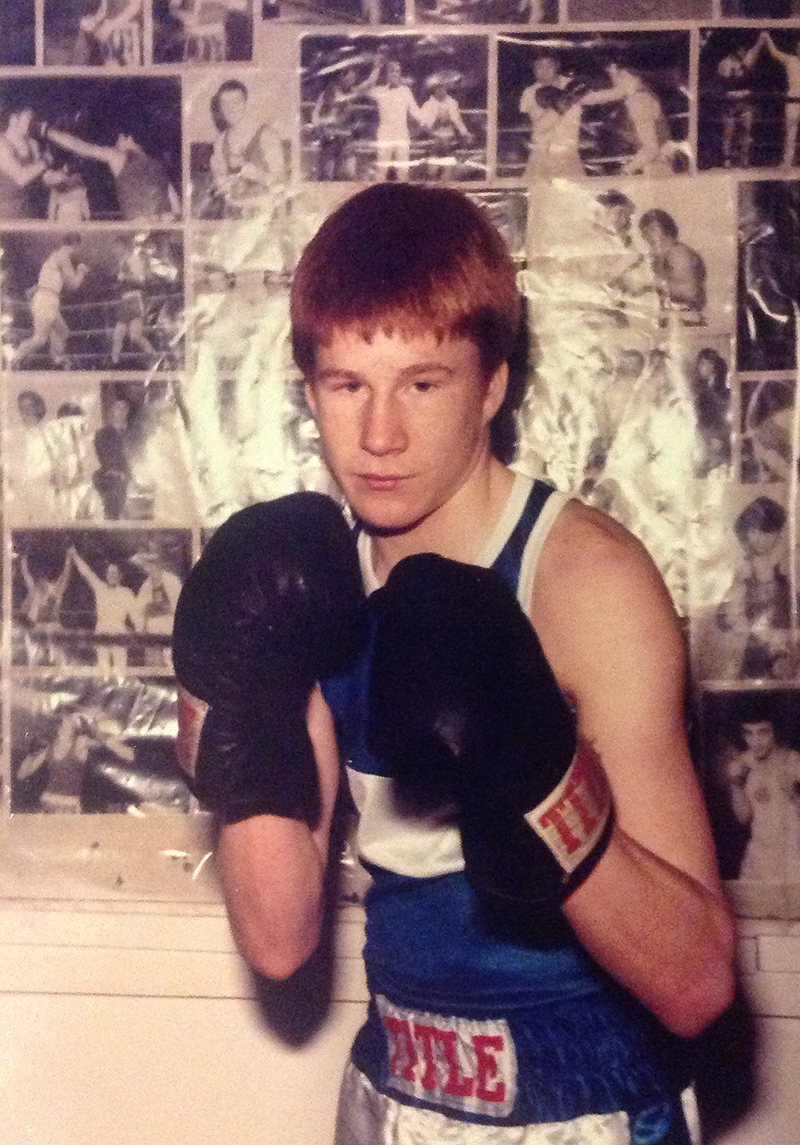 Donald McIntosh

Donald McIntosh joined Aberdeen ABC when he was 10 years old. Donald lived beside the clubs new home at the Muirfield huts at Mastrick where he soon became a regular and dedicated member. Donald trained hard and got involved in training and sparring with the other boys his age. As there was a good mix of abilities and close range of size and ages of members there was always a full bill of sparring each night. Donald was one of many who began to adapt quickly and became a very competent boxer developing great skill and ability along the way.
Donald was soon boxing all over the North-East District and in great demand always due to his boxing abilities and desire to constantly box never turning down the opportunity of a contest. Donald went on to box in the North-east District Championships where he would beat two different boxers on the same day to claim his first of three junior District Championships.
Donald then went on to the Scottish Junior Championships at Meadowbank stadium where he won his semi-final bout before losing a very close decision in the final to Peter Harrison's younger brother. Peter was a former Scottish champion and internationalist who also boxed professionally and his son Scott was a successful amateur and professional boxer also winning the WBO world Featherweight Championship. Donald would box in the Scottish Junior Championships on another two occasions and each time he lost by close decision in the finals again  to Peter Harrisons brother who just had that slight edge but Donald always pushed him all the way in their three contests.
Donald continued to box and progressed well in to the senior ranks where he would win District Championships at lightweight and also went on to box in the Scottish senior Championships losing a close decision in the semi-finals to Iain McLeod. While still only 18 there was a possible opportunity for Donald as he was named in the Scotland squad for the first ever AIBA World Youth Championships in Yokohama Japan. Sadly the opportunity fell through but only due to financial constraints as the S.A.B
.A. could not afford to send a full team. The S.A.B.A then contacted club secretary Adam Smith to say that Donald had been selected to box against Denmark where Donald was very excited an
d honoured to make his debut for Scotland and won a unanimous decision. Donald was then picked to represent Scotland against England in London where he fought Terry Smith who was a former England youth champion and lost a very close majority decision.
Donald had a very busy junior and senior career representing the club on many occasions but he was also the first club member under Adam Smith's leadership during the Muirfield era to be picked to represent Scotland. Donald was a very strong and aggressive boxer who was a great servant to Aberdeen ABC.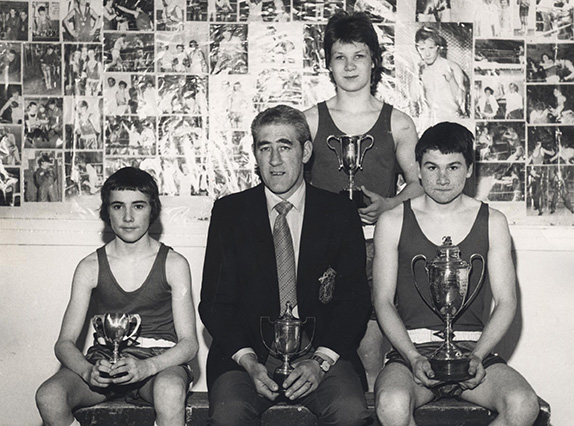 Calum Rattray

Calum Rattray joined Aberdeen ABC during the mid-1970's when the club was at the Muirfield huts in Mastrick and in doing so not only showed great dedication to his training but had to show great dedication to get to the club also as he had to get two buses to the gym from his home in Kincorth on the other side of the city.
Calum was both dedicated and displayed a fantastic ability for boxing which helped achieve great success very quickly. Calum won the North-East District Championship and the best boxer trophies for his age group and the overall trophy. These trophies contain the names of many Aberdeen ABC boxers and the team trophy has been won by Aberdeen ABC many times also at both junior and senior district championships.
Two weeks later Calum went to Meadowbank Stadium Edinburgh where he and Garry Macgregor both won Scottish Junior Championships becoming the first (of many) Scottish Junior Champions at Aberdeen ABC under the leadership of Adam Smith. It is worth noting that at this time and up until around the year 2000 the Scottish Junior Championships were not an open entry competition and young boxers had to win their respective District Championships to go on to box at the Scottish Championships.
Calum regularly appeared on shows throughout the North-East District and also in the Midland District particularly in Dundee. An opportunity came for Calum to appear on an international show in Dundee against Wales where Calum filled the Bantamweight spot where he won a very good unanimous decision against the Welshman and this as a fledgling senior at the time.
Calum went on to have a very good senior career where he won District titles at lightweight, welterweight and light-middleweight. Calum also lost in the Scottish lightweight final of 1983 in the Govan Town Hall to Alex Dickson of Larkhall ABC in a fight which Calum lost the decision to Dickson by a whisker and Dickson  then went on to box for Great Britain at the 1984 Los Angeles Olympics. Before reaching the final of the Scottish Championships Calum also beat Kris McAdam with an electrifying first round stoppage.
Other notable opponents on Calum's record include Henry Wharton who went on to become a very successful professional boxer winning the WBC World Super-Middleweight Championship. Calum had a lengthy and very busy amateur career and had well over 100 contests. Calum was well travelled during his senior career boxing in places including Holland. After being inactive for around three years Calum turned professional but never had the same successes as a professional that he enjoyed during his amateur career.
Norman Houston
Norman came to Aberdeen ABC when the club had recently moved to the Muirfield huts in Mastrick when he moved to Aberdeen from Muir of Ord to take up a place at Aberdeen University. Norman was brought along to one of the clubs training nights by another Aberdeen University student who trained with the club at that time.
Norman very quickly got the boxing bug and it was not long before he was mixing it with the best. Norman went on to win the North-East District Welterweight Championship in his first competitive year. Norman would go on to win the same District Championship for four consecutive years.
Norman went on to box at the Scottish Senior Championships at welterweight three times where he lost at the semi-final stage on each occasion and also by close majority decisions each time.
While Norman was with the club he entered the Scottish and British University Championships where he boxed representing the Aberdeen University and he won both titles. Norman was a tough and dedicated member of Aberdeen ABC who achieved a great deal in a short time and had a great number of contests also.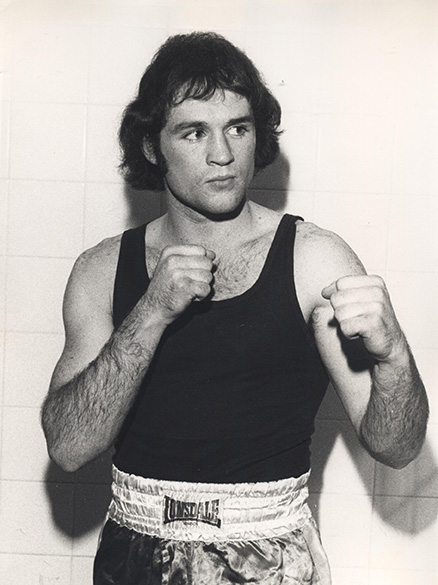 Jimmy Coutts

Jimmy Coutts joined Aberdeen ABC with his older brother Billy when the club moved to the Muirfield huts at Mastrick which was just round the corner from their family home.
Jimmy showed great boxing potential right from the start but it was two years before the club could match him for contests due to his age. Jimmy had to wait until he was 14 before he could get a competitive contest but during that time Jimmy remained focused and dedicated which gave him a great opportunity to develop before he started boxing competitively.
Once Jimmy started boxing competitively he soon made his mark on the district scene. Jimmy featured in some great contests with most of his bouts like his brother Billy taking place in Dundee. Jimmy fought some great contests with both of the Buchanan brothers Alan and Billy all of which were greatly competitive and entertainingly close contests with the decisions being shared equally amongst the three boxers which satisfied all concerned including the boxers themselves, the coaches, officials and the spectators.
When Jimmy reached 17 years of age he was entered in the Scottish Championships and went to the Govan Town Hall where he was drawn against former Scottish Champion and Internationalist Jim Watt of Dennistoun ABC. Jimmy Coutts won boxed magnificently to outpoint Watt over the distance in what was a hard but great contest. Jimmy Coutts went on to the semi-final where he lost to European bronze medallist John Bambrick in another greatly contested bout which amazingly took place on the same night and had Jimmy won he would have had to box again that night in the final.
Jimmy's ability in both of his contests that night were witnessed by all of the top Scottish officials which opened their eyes to a boy from Aberdeen who had just competed as a senior and over the 3×3 minute round distance for the first time in his career. Jimmy's display earned him an opportunity to represent Scotland against the best in Europe at the European Junior Championships in Greece later that year. Club secretary Adam Smith received a letter from the S.A.B.A asking if Jimmy would be available to go to the European Championships. Much to everyone's surprise Jimmy turned down this opportunity for reasons only he himself will know of.
Jimmy then boxed in the senior championships against Harry Johnstone of Insch ABC. Harry was a Scottish Champion, Internationalist and had also boxed in the English A.B.A. Championships. Jimmy put on a great performance and dropped a very close decision to Johnstone at the tender age of 17. A fortnight later the pair boxed once more in Inverness and Jimmy left no doubt this time as he put on a stunning performance out-boxing Johnstone over the three rounds winning on points.
Just after this Jimmy surprisingly gave up boxing and never returned to the sport. A suggestion by Adam Smith is that although Jimmy was making great progress gaining honours along the way perhaps the success and what came with it was happening too fast for him. There can be no doubting what a truly amazing talent Jimmy Coutts was as he blazed a trail through not only the District but also the Scottish scene and could have done the same internationally in such a short period of only three years competitive boxing.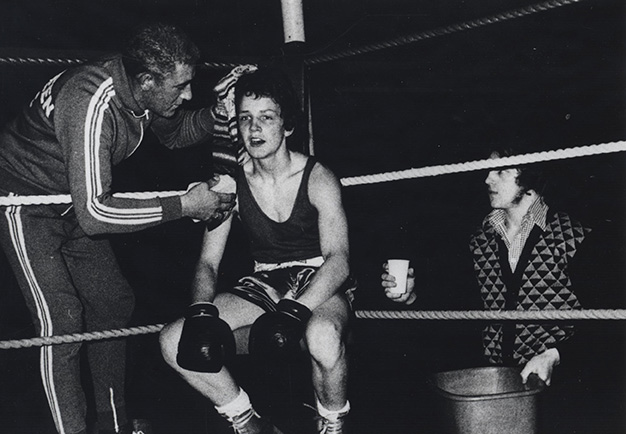 Billy Coutts

At the time the club moved into its new home of the Muirfield huts in the Mastrick area of Aberdeen Billy Coutts along with his younger brother Jimmy joined the club along with around a dozen other boys from the local school.
In a space of six months after showing a great aptitude in his training Billy was entered in the North-East District Junior Championships. Billyy was successful and won not only a district title but also won the best boxer trophy for his age. It was a highly successful year for the club at the district championships that year as both of the best boxer trophies and the team trophy went to Aberdeen ABC.
Billy was developing into one of the best talents in the district as he progressed through the junior age categories developing great skill and never refusing a contest at any time. Billy went on to win the North-East District Youth Championship and went on to the Scottish Youth Championships where he lost a close decision in the Final.
Billy was looking forward to boxing as a senior and he progressed into the senior ranks very well as he continued training hard and boxing regularly. Billy regularly boxed away from home in Dundee on St. Francis ABC and Camperdown ABC shows where he became a crowd favourite displaying his skills in some great contests. One such contest Billy jumped at the chance to box against the highly experienced English A.B.A. Champion Ricky Beaumont. Billy put up a great performance but Beaumont was that one step ahead. During his senior career Billy went on to win North-East District Championships at featherweight and lightweight and boxed in the Scottish Senior Championships also at lightweight losing to John Hutchison of the Sparta ABC of Edinburgh in the semi-final who was  the defending champion and also went on to win that year again in the final.
John Gillan
For a period of six years not only was John Gillan the dominant Scottish Champion but he was arguably the best lightweight boxer in Britain where he beat all of the domestic opposition of England, Ireland and Wales and against England John Gillan never lost in a full international. Some of the names included in the domestic contests include; Joey Singleton, Graham Moughton, Howard Hayes and the great Charlie Nash amongst many others. John was also the victim of some debatable judging when losing contests with one of the most notable against Pat Cowdell. The loss to Cowdell was in the ABA's which apparently was even booed by the English home crowd as Cowdell could not match Gillan at all during the contest.
John Gillan would prove to be a great servant and ambassador to the club both domestically and internationally where John would be the Scotland captain for a 5 year period. Some of John Gillans international honours include twice European championship and Commonwealth games representative, ABA championship runner-up and narrowly missing out on a place in the GB team for the '72 Olympics following an accident while at work. Whilst at club level John continued to box and even took part in a fund-raising show for the club where he boxed former world lightweight champion Ken Buchanan of Edinburgh at Aberdeen Music Hall.
John Gillan would have a short but relatively successful professional career where after his first fight he was ranked in the top 5 lightweights in the UK and boxed for the Scottish lightweight championship in only his fourth and final contest.
In all, John Gillan had a very long and glorious career winning many honours along the way of which he can be very proud. In the long history of Aberdeen Amateur Boxing Club John Gillan stands out as the best, most talented and most successful boxer to be produced by the club and arguably John Gillan could be the best boxer to date to come from the city of Aberdeen and even the North of Scotland based on his record and achievements.
A timeline with John Gillans greatest career highlights and achievements follows below;
1964 John Gillan won the Scottish Youth title and went on to finish runner-up in the ABA of England Youth championships that year
1970 John Gillan won his first Scottish lightweight titles before going on to win a silver medal at the 1970 Commonwealth Games in Edinburgh
1970-75 John Gillan wins six consecutive Scottish Lightweight Championships
1971-75 John Gillan represents Scotland in international competition many times over and is also the team captain on many occasions during this time where he John Gillan wore a Scotland vest on over 40 occasions
1971 John Gillan reaches the quarter-final of the European Championships in Madrid
1972 John Gillan is picked to box in the trials for the Munich Olympics later that year but has to withdraw due to an injury sustained during his employment
1973 John Gillan boxes in the European Championships in Zagreb, Yugoslavia
1973 John Gillan boxes former world lightweight champion Ken Buchanan of Edinburgh in a pro-am exhibition match at a show in Aberdeen Music Hall ran by Aberdeen Amateur Boxing Club to help raise funds for the club
1974 John Gillan ABA Championships runner-up, John Gillan would be a semi-finalist on a further two occasions
1974 John Gillan boxes in the Commonwealth Games in Christchurch in New Zealand
1975 John Gillan turns professional and debuts against Benny McQuade Purdy winning a unanimous decision
1976 John Gillan registers points wins against Gordon Kirk and Jim Montague before losing on points in April against Tommy Glencross of Glasgow in a bout for the Scottish Lightweight title which would be John Gillans last contest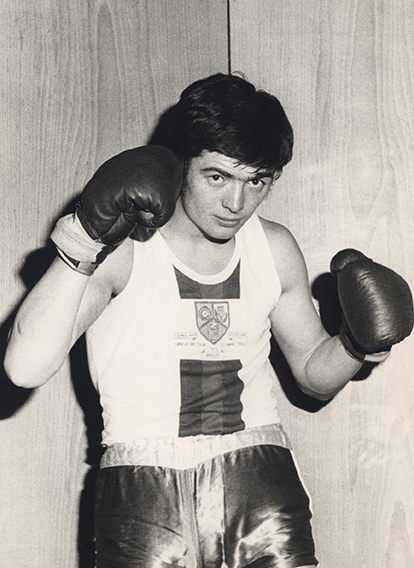 John Leys

John Leys started his career in 1980 and was doing very well boxing in a variety of club shows winning the vast majority of his fights. He was a beaten semi-finalist in the Scottish Championships that is until 1985 which was probably one of John's best seasons.  During this time he beat everyone put in front of him and also won the Scottish Featherweight Championship that same year. John was beaten in the ABA semi-finals later that same year. In 1986 John went for the Scottish title again but missed out and also missed out on a Commonwealth Games place. Shortly after this time John turned professional and had three fights yet he decided he preferred amateur boxing and got re-instated back to amateur. John continued boxing up until 1995 and began coaching with the club from 2009 – 2012.
Colin McDonald

Colin McDonald was our Heavyweight Champion in the late 60's and into the 70's. He won the North East District title four times and was beaten three times in the Scottish Championships always putting up a great show. However, in 1971 he won the Scottish Heavyweight much to everyone's delight. Colin was a Policeman and after winning the title he was posted to Dornoch in the far North of Scotland.  Not long after arriving in Dornoch Colin called Aberdeen ABC to speak with Adam Smith (Secretary) that he had been promoted to the rank of Detective Sergeant. Colin was a good representative of the club and always gave a good show whenever boxing.